Hardwood Flooring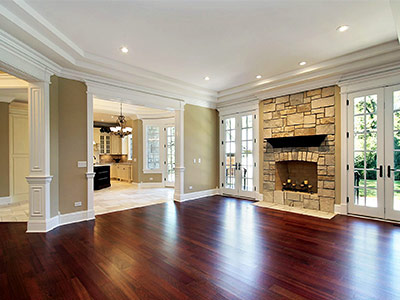 Hardwood flooring is still the choice of many property owners because of its natural and elegant beauty. Wood can instantly change the ambiance and aesthetics of any area where it was installed. It can also match any decor and interior design, whether traditional or contemporary. Moreover, hardwood can last for decades and still maintain its beauty even when sanded and refinished many times. But there's one thing that you must take into consideration when choosing this flooring material. Look for a reliable and experienced installer to get all the benefits of hardwood floors.

A local and family-owned company that can offer you excellent installation of hardwood flooring is Moriarty Floor Covering, Inc. Since 2002, we have been handling various flooring projects in Bloomington, Kirby, Harrodsburg, Unionville, Ellettsville, Cincinnati, Whitehall, Hendricksville, Bedford, and Springville, IN. Our highly satisfied clients from these areas include homeowners, businesses, and owners of apartment complexes. If you want to be guaranteed of durable, attractive, and long-lasting flooring surfaces, please contact us at (812) 824-5555.


Solid Wood vs. Engineered Wood
The two types of wood floors that you can install in your home or commercial property are solid hardwood and engineered wood. Each type has its own advantages, so ask the help of a professional when selecting the type of hardwood for your flooring project. The material must suit your needs and flooring requirements.

Among the two types of hardwood flooring, solid wood planks are still the best option. They are sturdy and can last for decades when properly maintained. The only downside is that they are not suited for moisture-rich areas such as kitchens and bathrooms. However, engineered wood flooring has also its own strengths. An engineered wood is more resistant to moisture and heat, faster to install, and priced lower than solid hardwood. However, only the tough wood varieties are used to create this type of flooring.


The Best Hardwood Species
There's no doubt about the quality and durability of hardwood when used as a flooring material. However, you should still choose the right wood species to get the look and ambiance that you desire for your interior space. For example, the hardwood's color and grain can create a different mood or aesthetic effect in the interiors. Oak flooring, which is usually tan in color, is perfect for rustic-decor style and ideal for family home. Other color tones that would be great for your home include brown and natural/beige. You may also choose bold colors by opting for stained hardwood. Meanwhile, the wood varieties that are best used as hardwood flooring include red oak, maple, cherry, pine, beech, and hickory. Most leading flooring manufacturers offer these wood varieties.


Hardwood Flooring Installation
Hardwood is an expensive flooring material. You must ensure that your chosen installer or contractor has the skills and experience in flooring installation projects. Don't just call a home improvement contractor in your locality. Choose a contractor who can expertly install hardwood flooring. If possible, hire a company that specializes in all types of flooring.

If you want to transform your interiors into a more attractive, safer, and relaxing space, please call us at Moriarty Floor Covering, Inc. We can install the perfect type of hardwood flooring for your home or business. Call or visit us now so we can also discuss other great options for your floors.

"MORE ARTICLES"

Floor Coverings
Carpet Flooring
Laminate Flooring
Tile Flooring
Flooring Installation

Hardwoods:
Hallmark Hardwoods
Cali Bamboo
Castle Combe
LVT & LVP (luxury vinyl tile and luxury vinyl plank):
Cali Vinyl Plus
Cali Vinyl Pro
Timeless Design
Nova Serenbe
Novus Quarry
Mohawk Smart Select
Mohawk Soli Tech
Sheet Vinyl:
Laminate:
Carpet manufacturers and products we carry:
SHAW:

Simply Yours
Originals
Philadelphia
All standard label

DREAM WEAVER:

Pure Color
Pure Color Soft Nylon
Pure Soft Cashmere

AMERICAN CARPET:

Embrace
Silk
Smartstrand
All Standard Label
We Provide Services to the Following Cities and Towns in IN: